After an incredibly fun sit-down interview with Chris and Bryce (which you can read about here) it was time for the red carpet. But first, a selfie with Blue. Someone needs teeth whitening and a breath mint – peeee-ewwww!
This premiere was so big we were doing a half an hour special on it – Beyond the Red Carpet which is my favourite thing to do in the world. I get to write the script for it too, which is also a really enjoyable part of my gig at E!, but nothing beats getting glammed up and the power of the energy of the red carpet! Below is another little cameo of Paul who is my partner in crime who you don't usually get to see.
After much anticipation, Chris Pratt and Bryce Dallas Howard arrived!! Here he is just being CP with that face haha he makes me laugh. Winnie (our China correspondent) and I were big fans before but even more after this meeting! Meanwhile Blue tried to photobomb but she's always got my back haha!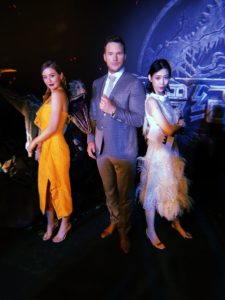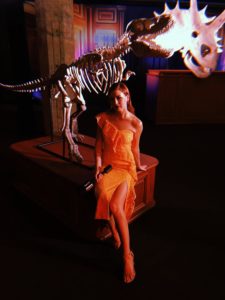 And that's a wrap. No dinosaurs were harmed in the making of this production.
WEARING
Dress by Rebecca Valance
Shoes by Stuart Weitzman